How To Dispose of Waste Soil From Construction Sites
How To Dispose of Waste Soil From Construction Sites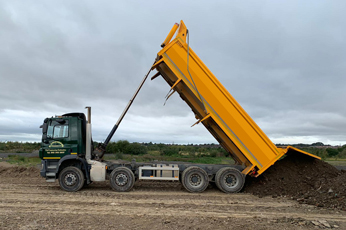 Blog
January 13, 2020
You must be here because you are wondering how to dispose of your waste soils? No need to worry, we're going to explain exactly how to remain compliant throughout.
Why do we need to remove soil from a construction site?
The removal of soils is common practice within the construction industry. Before construction, existing site levels may need to be reduced or changed to meet the requirements of the new design. In some cases, you may be able to use some of the surplus material to raise levels in other areas of the site, but in most cases, you are still left with surplus material for which you have no requirements. Therefore, this material needs to be removed from the site and potentially disposed of. This material is defined as 'WASTE' even if you have an intention for the soil to be used for a specific purpose on another site, the material is still classed as waste until certain conditions are met.
Waste soils accounted for 26.3% of all generated waste within the UK in 2016, making it the second-highest waste material produced.
Waste Classification
Regardless of which re-use or disposal option you may choose, before the decision is made, all waste must be classified in accordance with the 'Waste (England & Wales) Regulations' This is undertaken by considering various factors.
In the first instance a review of where the material originated from needs to take place. This is critical as this could determine whether the material is virgin dug, clean, and inert (usually a greenfield / previously un-developed site) or has the potential to be contaminated (Usually a brownfield / previously developed site). The physical and chemical properties of the material then need to be assessed. This information should be provided as part of a site investigation that looks at the makeup of the ground and provides laboratory geotechnical and chemical analysis.
Once the material has been classified, a European Waste Code (EWC) can be applied to the material and from this, a final decision can be made for the end-use of the material.
Landfill Disposal
When disposing of waste soil, you have a legal duty to dispose of the waste material at an authorised landfill site. These sites have specific permits that allow them to accept the following types of waste:
Inert
Non-Hazardous
Hazardous
Depending on the types of waste a landfill site is permitted to accept, the site will have a certain set of waste acceptance criteria that all waste being disposed of must adhere to. This should be in-line with the 'Landfill Directive' or the Environment Agency guidance document. 'Waste Acceptance at Landfills' The waste acceptance criteria will consist of a set of chemical and potentially physical properties the material must meet.
Using the same information provided as part of the waste classification process (providing the information required by the site's waste acceptance criteria is met), it should then be possible to decide which types of landfill the waste material can be accepted at. If not, further laboratory analysis will be required.
Transportation of waste
Once the material has been accepted by the site, it must be transported by a company with a valid waste carrier licence. These companies are approved by the government and anyone found without a licence can be prosecuted. All customers importing waste to one of our sites are checked for a valid waste carrier licence at the point of quotation.
A waste transfer note must be produced for each load of material imported to a site. The waste transfer note documents the movements and people involved in the handling of the waste material. The information collected helps the business accepting the waste handle and dispose of it safely.
Booth Ventures accept inert and non-hazardous materials (including soils previously containing invasive species) for disposal. We also have permitted restoration and waste recovery schemes where we can accept inert soils in numerous locations.
Click HERE to view all our current locations
(Source: UK Statistics on Waste, 2019)