How to restore an existing quarry
How to restore an existing quarry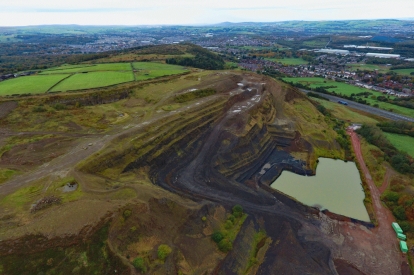 Blog
June 15, 2021
What is a Quarry?
A quarry is an area in which stone, sand, or minerals are; or have been extracted from the earth. These sites are essential in supplying a variety of products such as dimension stone, aggregates, sands, gravel, or slate which are then used for construction purposes.
Why should we restore Quarries?
Once an extraction permit has expired or all raw materials have been removed, void space is left from the extraction process. The owner has a duty of care to ensure that the quarry is restored. There are a variety of reasons why existing quarries should be restored:
Safety – An open quarry can be a danger to human health due to the height of the benches which have been cut out during quarrying. Lagoons can also form within some quarries, increasing the risk of drowning. By filling this void with suitable material, you can bring levels back to the ground and eliminate any dangerous falls or lagoons.
Environmental – Due to the removal of the raw materials, habitats struggle to form. Filling the void will bring levels back to the ground allowing for the development of a new landscape. This newly formed area can then be shaped and seeded to allow for the development of new habitats.
Commercial – Once the existing quarry has been filled with safe materials, development platforms can be produced allowing for future developments to take place. These platforms could be used to construct much-needed housing within the UK helping to improve the local economy.
How to restore a Quarry
The restoration of a quarry has many different challenges and can take many years before it has been completely restored. Most new quarries in the UK will now have a restoration scheme implemented into their planning to ensure the site is restored once quarrying activity has ceased.
Site assessment – A walkover of the existing site needs to take place to understand its features and allows for the restoration team to pinpoint key areas during the works.
Void space volumisation survey – The existing quarry will need to have its void space volumized to understand the quantity of material that is required during importation. This information will also be used within any planning / environmental applications.
Topographical design & drawings – Drawings will be produced to show the site's final topographical features which will also include surface water management systems and site engineering such as Geosynthetic Clay Liner (GCL) if required.
Planning permissions – Documents of the proposed works need to be signed off by local authorities to deter any inappropriate developments. Once this has been signed off preparation works can begin on site.
Environmental permits – In order to complete restoration, material needs to be imported to fill the existing void space. Before material can be imported the site will need to apply for an Environmental Permit with the Environment Agency. This will highlight the specific material which can be accepted for site restoration.
Material classification – After environmental permits have been awarded, you must ensure that the material which is being imported meets the classification. Using site investigation reports and chemical data you can classify the material making sure it does not exceed your material acceptance criteria.
Site engineering – Dependant on the material being accepted there may be requirements for further engineering to take place in the form of a GCL. This ensures that the material imported is properly housed, eliminating any possible chance of contamination to groundwater.
Importation & placement – Once the material has been deemed acceptable it can be imported into the site. After importation, the material needs to be engineered to match the topographical features, ensuring surface water is managed effectively and controlling erosion.
Aftercare – Once all imports have been completed and features have been engineered, an aftercare program should be adopted. This may include the development of construction platforms for future developments, grass seeding to improve visual aspects, or habitat creation.
Examples of quarry restoration
Nosterfield Nature Reserve, North Yorkshire
A former sand and gravel quarry until the late 1980s. The former quarry has now been restored and transformed into a nature reserve and is the only Local Nature Reserve in the Hambleton District.  It is now the home for over 200 different species of bird, 200 species of plants & insects, and 20 types of butterfly.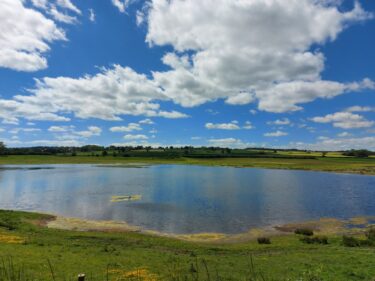 Tiddenfoot Waterside Park, Leighton Buzzard
The park was formerly a sand quarry but has been reverted back to nature as a range of wild plants and animals have been encouraged to reoccupy the land. Tiddenfoot Waterside Park is a place for people and wildlife to enjoy, open to anyone for walking or cycling.
If you require restoration for any end-of-life quarries, Booth Ventures can compliantly restore the site ensuring safety, environmental improvements, and potential for further commercial usage.
Get in touch with the team on 01204 597788 or email [email protected]